How can Tel4less help you with your energy bills?
Tel4less offers ways to help businesses stabilize and save on gas and electric utility costs by bringing utility companies to compete for your business and offering energy saving technology products and services such as LED Lighting, Nano-Tech Window Coatings, Energy Audits, Intelligent HVAC and Building Control Systems and more.

Competitive natural gas and electricity are available in the deregulated States as shown in the map below. Deregulation has opened up opportunities for competition and choice for customers.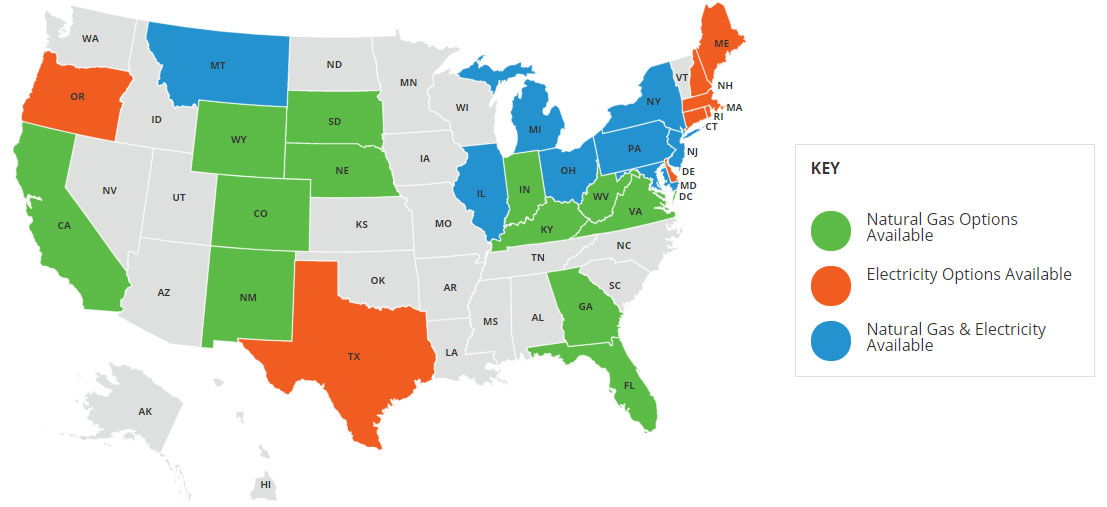 Competitive Electricity
Tel4less brings in energy suppliers to compete for your business through an electronic platform with more than 200 electric companies across the nation that provide our clients with fixed pricing terms and participate in electricity auctions. For electricity consumers under 1 million kWh's per month, Tel4less will provide you with a menu of fixed price per kilowatt-hour offerings from numerous electrical utilities for a variety of term contracts ranging from 3 to 36 months. Simply choose the one you like and sign up. The process is very easy. There's no need to re-connect your power. There's no service interruption. You'll just start receiving a bill from your new provider.

For customers using 1 million kilowatt-hours per month or more, Tel4less holds electronic auctions for each customer where suppliers bid and compete for your business. The lowest bidder wins your contract.


Competitive Natural Gas
Similar to electricity, Tel4less brings natural gas providers to compete for your business. We will present you with a variety of term options from 3 to 36 months for fixed price natural gas. Simply choose the price and term you like, and sign up. Other than that, unless you're a very large volume customer, there's nothing to do. You will just start receiving bills from your new provider. Some natural gas providers may want to put in monitoring sensors for large scale natural gas customers, however this is simple to implement and does not cause any long delays.


Will customers save money on fixed energy contract terms?
While on average most customers actually do save money, and some save a lot, savings are not guaranteed. Gas and electricity prices can fluctuate greatly over the course of a year or so. What's guaranteed is predictability. You'll know what your company will be paying for natural gas or electricity for the length of your contract term, which eliminates uncertainty. To provide you with quotations, you'll need to send us your company's last gas or electric bill. For companies that wish to run an electricity auction, we will need at least 12 months electric bills.