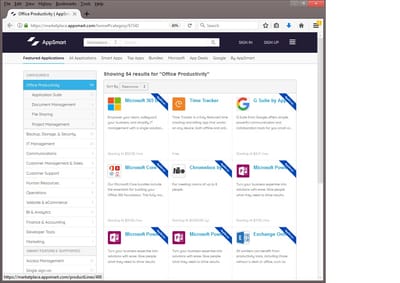 Tel4less has partnered with Appsmart, the leading business software marketplace, to bring you one stop shopping for all of your business cloud software with free premium technical support and consulting.
With a dizzying array of choices, almost every company needs help figuring out what software apps are right for them, how to purchase apps cost-effectively, how to get affordable expert support and how to utilize the software efficiently for maximum benefit.
Appsmart provides free high-touch concierge support and guidance in choosing and implementing software apps, platforms and firewalls. When purchasing software through Appsmart you have truly unlimited access to free, highly trained and knowledgeable technical support agents that will consult with you, asses your software needs, recommend software solutions, implement those solutions, configure your apps for you, get your company using the software efficiently and providing continued support.
Dedicated success team to drive user adoption of cloud services and maximize benefit
Truly free, unlimited technical support for end users and admins from highly trained experts
One stop shopping for all of your software needs
Central login portal for all of your software accounts
Dashboard providing statistical software usage information and analysis
Custom bundled software pricing
Free, enterprise-grade softwares from Appsmart
Cloud Management Suite included in Core Bundle
Full, high level escalation to software vendors
Appsmart is only accessible through selected partners.
Contact Tel4less today to set up your free login and free Appsmart evaluation.
- With By AppSmart, your organization gets the most out of your cloud applications.
- Greater ROI through increased usage enabled by our dedicated team of Cloud Success Specialists.
- All-inclusive premium support the way you want it. Call, chat, email or schedule a time.
- On-demand operational guidance ensures your team has the resources they need to leverage each application to achieve optimal productivity and efficiency.
- Cloud Management Suite adds value with single sign-on capability.
- Smart Search allows users to search multiple applications and data.